iM980A (iMAS923TH) Arduino Mega / Nucleo shield
฿1,208.51 exc. VAT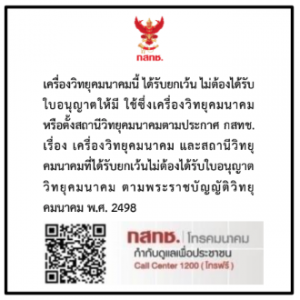 eMOD iMAS923TH (iM980a) LoRaWAN Wimod end device module 920~925MHz สำหรับประเทศไทย Passed the LoRa® Alliance Certification จาก IMST. ข้อมูลตาม https://wireless-solutions.de/news/169-lora-newsletter,-im980a-successfully-passed-the-lora-alliance-certification,-02-2018.html *ราคาอาจเปลี่ยนแปลงโดยไม่แจ้งให้ทราบ (ราคาโครงการโปรดติดต่อ info@emone.co.th)  *
Datasheet : iMAS923TH_Datasheet_1_1_1_draft_rev01
Eagle library :
Available on backorder
Description
Introduction
The iMAS923TH; iM980A is a compact, low power, bidirectional radio module for the 923 MHz frequency band using Semtech's LoRaTM modulation technology. The module provides ultra-long range spread spectrum communication and high interference immunity whilst minimising current consumption. Using the iMAS923TH; iM980A in an application minimizes the need for an expensive and time-consuming RF development. Fast time to market is possible with this pre-qualified module.
Key Features

Applications

Arduino Shield size 53.5 x 68.5 x 5.5 mm

LoRaTM modulation technology

Sensitivity down to -138 dBm

UART, SPI and I²C interface1

Digital inputs and outputs

Analog inputs

Supply voltage range from 2.4 to 3.6 V

RF interface optimized to 50 Ω

Integrated 20 dBm Power Amplifier

High link budget up to 155 dB

Range up to 15000m (Line of Sight)

STM32L151CxU6Axx

Certified according to FCC ID:

Q9B409810

NBTC TS. 1033-2560

Automated Meter Reading

Wireless Networks

Home-, Building-, Industrial automation

Remote Control

Wireless Sensors

Telemetry

Wireless Alarm and Security Systems

…
Only logged in customers who have purchased this product may leave a review.
QR Code